Sunday Service - Sunday morning 10:45 am to 12:00 pm
Pastor Tommy Griffin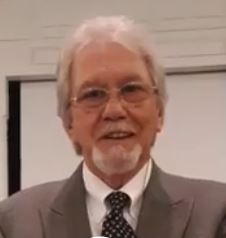 Everyone is welcome. Come as you are.
Feel free to come and visit. We are a warm and accepting group from all walks of life. The service is casual. We usually sing some songs that may include traditional hymns or more contemporary music. We are a praying congregation. We believe that Jesus is Lord and has the power to heal and deliver. As a result, the service includes a time of prayer for the needs of our friends and neighbors. Services generally include a message of encouragement and exhortation from God's word.
If you are looking for answers in your life or you would like a church home, we would love to meet you.
Pastor Tommy Griffin
Wed. Night Bible Study - 7 pm to 8 pm
Bill Bell
If you have ever wanted to know more about the Bible, this is a great place to start. Each Wednesday, we meet to read and discuss a book of the Bible: chapter by chapter, verse by verse. Come as you are. Materials are provided and you don't have to be a Bible scholar to benefit from each study. We believe that the Bible is God's living word and that regular study of God's word is part of a vibrant and powerful Christian life.